Steve and The REAL. Leadership team would like to wish all of our readers a really wonderful festive season. Thank you for all of your support in 2021 and for sharing your leadership insights and tips with us.  We look forward to continuing to build a community of REAL. Leaders in 2022. 
In this, the third of our REAL. Leadership newsletters, we're focusing on a different theme – it's all about taking time for yourself.
This month we have been discussing the impact of the festive season with Alexandra Lichtenfeld, an expert in relationship management, mental health and wellbeing in the workplace.
Although this year, more than any other, we are all looking forward to some well-deserved down time over the festive season, that change of routine can often introduce new challenges for us all to cope with.  Alexandra shares with us her tips for coping with the festive season including making sure you are nailing the basics, talking it out and staying away from social media. This is nothing new but it's always worth remembering.
Find out more via this new blog post. As always, we would love to hear from you on what you would add to the list.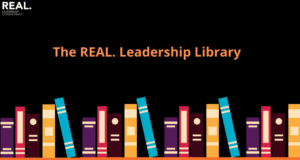 With many of us taking some valuable time off in December we wanted to share with you some of the REAL. Leadership team's favourite business books. We'd love to hear what you would add to the list or the books you're hoping for under the tree this year!
Why should anyone be led by you?
Rob Goffee and Gareth Jones argue that leaders don't become great by aspiring to a list of universal character traits. Rather, effective leaders are authentic: they deploy individual strengths to engage followers' hearts, minds, and souls. Authentic leaders are skilful at consistently being themselves, even as they alter their behaviour to respond effectively to changing contexts.  Underscoring the inherently social nature of leadership, the book also explores how leaders can stay attuned to the needs and expectations of followers.
Chip and Dan Heath explore why certain brief experiences can jolt, elevate and change us – and how we can learn to create such extraordinary moments in our own life and work. Filled with remarkable tales and practical insights, The Power of Moments proves we all have the power to transform ordinary experiences into unforgettable ones.
Hubert Joly, former CEO of Best Buy and orchestrator of the retailer's spectacular turnaround, unveils his personal playbook for achieving extraordinary outcomes by putting people and purpose at the heart of business.  In The Heart of Business, Joly shares the philosophy behind the resurgence of Best Buy: pursue a noble purpose, put people at the center of the business, create an environment where every employee can blossom, and treat profit as an outcome, not the goal.
We always want to provide actionable tips and advice that our network can actually use in their everyday lives as leaders. Here's just a few ideas for the next few weeks.
1. Make sure you check in with your teams before the festive break, a quick chat or note to ensure they are in a good place, reassure them that they deserve a relaxing break. Then don't forget to check in again when they come back afterwards.
2. If you're a leader that can't switch off and needs to work during the festive break then don't ruin your employees time off by bombarding them with emails or communication. Stating that something doesn't need to be actioned DOES NOT WORK, think of your communication as throwing a stone into a pond, the resulting ripples are huge and continue for a long time!
3. As our guest editor Alexandra says, make sure you get some "you" time during the break, whatever it is doesn't matter, just find the time to do something completely for yourself. (read more from her blog here.)
4. Consider starting work a few days earlier in January than everyone else, allows you some time to get organised and plan ahead before the inevitable onslaught of questions and challenges from your team.
5. Be prepared for a tough first few weeks back, your positive mindset and energy levels will be challenged as we start another year of uncertainty. And of course the weather won't be any better…"

The REAL. Leadership team are proud to support the Bsignificant charity. Our founder Steve is one of their trustees and the mission and values align well with our own vision. In 2022 they are running a charity leadership mastermind programme, aimed specifically at leaders within charities who want to develop their own leadership skills, the commitment is a couple of hours per month for 6 months and it's FREE OF CHARGE! However, there are limited spaces available so please click here if you want to apply.
"WE NEED TO DO A BETTER JOB OF PUTTING OURSELVES HIGHER ON OUR OWN 'TO DO' LIST."
Michelle Obama, former First Lady
#leadershipskills #lessonsinleadership #leaderchat #leaders #leadershipdevelopment #leadership